World peace thru democracy: H G Wells' neglected third phase.
"New ideas do not come suddenly. Wars do."

"British political life resists cleansing with all the vigour of a dirty little boy."

H G Wells.

Wells aims.
Previously unpublished snap from the 1930's.
With kind permission of the copyright owners.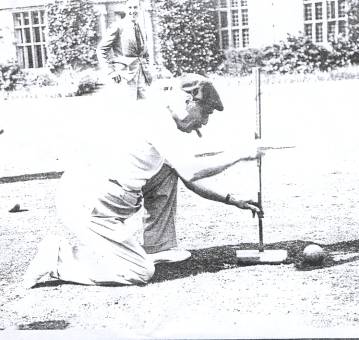 Wells' three phases
The aim to end war
The elitism of Wells
H G Wells on voting method
References to H G Wells on electoral reform
References to H G Wells on occupational representation
Conclusion and notes
Wells' three phases.
In 2005, I am dismayed that most of H G Wells' non-fiction writings about the urgent matters of his time and ours, about the deep questions of existence, about much else of interest and importance, are currently in copyright but out of print. For all the limitations of any one man, Wells' writings still speak for the public interest perhaps with a more refreshing honesty than anyone since. His quotable words are much better than I can convey or try to imitate, which is another cause for my dismay.
(On 10 june 2007, I learned that at least some of Wells' writings are in the public domain from Project Gutenberg.)
I heard on the radio recently someone say this age lacks original thought for liberty and democracy. ( Oh, so someone is actually aware of the fact. ) He suggested the best man from history to make amends would be Tom Paine. H G Wells may be the nearest remedy for that deficiency since the first half of the twentieth century.
It is hard to pick up a book by Wells, open it at random, and not find something to hold my interest in the print. This is true also of the non-fiction, Wells wrote in later life, more so, perhaps, than the later novels. Since the turn of the millenium, nearly all of the novels have been reprinted. Not so, a considerable body of political and educational writing. A book like The Science Of Life ( 1937 ) was bound to date with the progress of biological research. There, he said that economics would have been "a better and brighter science" if it had been based on ecology. Sad to say, politics and economics remain out-of-date. There, Wells remains, to this day, way ahead of his time and this.

Social rigidity is the problem Wells identified as early as 1908 in a work of fiction The War In The Air. This is perhaps the most typical example of Wells' genius, the most Wellsian book. To me, it was the most enjoyable and the most re-read - tho not the best in any given genre. True, most of the poetry in his late Victorian SF has receded, but the imaginative power of description remains. Moreover, one of his best comic characterisations, of the little man, is caught up in a prophetic world war. And if that wasnt enough, the novel incorporates a beautiful little essay on the causes of the dashing of civilisation, that explains how moral progress has not kept up with mechanical progress.
This was an abiding theme in the later non-fiction studies. They are the third main phase, of three over-lapping phases, in the writer's career. First there were the science fiction and fantasy years of writing. Then there were the novels of lowly Cockney origins. These were followed by what might be called the novels of expanded horizons or men of the world, which corresponded to Wells' changed situation as a famous writer. Literary critics considered these to be less successful.
The New Machiavelli in 1911 was a transition between these two types of novel. The beginning, about suddenly changing social surroundings, is wonderful. The public school education of the narrator may be described as competant story-telling. It is unenlivened by the personal observations of such an education by the author. His Fabian friends, the Webbs, put up with this novel's satire.
One of Henry James' letters to Wells noted a falling off in his fiction with The Passionate Friends, in 1913. Most of Wells' biographers, especially the earlier ones after his death, would concur. Typically, they concentrate on the late Victorian SF and the Edwardian lower middle class comedies.
A representative assessment of Wells' novels was that he was at his best writing about his own origins as a draper's assistant and a struggling student. When he moved up in the world and started to write about the upper classes, well, they just werent as much fun, the characters not as sympathetic. I agree with the critic who deplored Wells' cutting short that scamp of a novel, Bealby ( 1915 ) to get on with The Research Magnificent. What a groan when Bealby ends with a promise to try at being a below-stairs boy for the current commercial lord of the manor. Tho, Wells was being realistic and responsible about a poor boy's options.
Moreover, the author didnt seem to sympathise with his later lower class characters, such as in The Bulpington of Blup ( 1932 ) and You Can't Be Too Careful ( 1941 ). When an author ceases to like his own characters, neither does the reader, however sharp the author's perception remains. This partly explains why Bealby may be the author's last novel of genius. (My later opinion is that this distinction may go to The Dream.) He has a deep sympathy and perception of his creations, whether comicly or poeticly expressed.
It is humbling, as someone who tries to write a few good poems, to find this novelist portray all the effects of nature move the very soul of his leading character, just coming into his own with existence. He effortlessly combines this with all the other attributes of his novel, knowledge of the world, and relations between the sexes, etc. As Arthur C Clarke said, Wells was really a poet, tho he pretended not to be.
Many critics have followed George Orwell in saying that Wells wasted his literary talents in his later years on becoming a propagandist. But, ah, it is something to have talent, Orwell concluded. Let's be realistic. Granted that Bealby was Wells at the height of his literary powers, he was 49 years by then. One cannot always go on doing the same thing.
Brian Aldiss also decried Wells' late political writings as a sort of literary desert. Really, would he have been any better-off plugging away at his early SF genre, as Aldiss continued to do so strenuously? Even "a Wellsian imagination" must have its limits. The literary biographer Ingvald Racknem, who researched many sources of Wells' plot ideas, said that phrase was once common parlance.
The First World War was a challenge to Wells' imagination in a new way. How could a world without war be brought about by the application of human intelligence, instead of succumbing to human folly.
In non-fiction, Wells had already set up as a prophet or futurist and as a publicist for Socialism. When the 1914 war came, he believed it necessary to defeat dynastic military imperialism, once and for all: The war that will end war. But he also believed the future was with such national strength, as obtained by the German organisation of science and industry.
He compared unfavorably, for example, Britain's private railway companies that were in such chaotic disregard of one another with duplication of resources and lack of connections to each other.
Such inefficiencies told heavily on a nation straining at a world-wide war effort. (My grandad, who fought on the French Front, used to say of the Germans, that they always did every-thing better than we did. They were also brave.) On similar lines, Thorstein Veblen gave an impressive low-down of the American private rail-roads. Even that inveterate anti-socialist Winston Churchill, at the end of his radical phase, stood on a (political) platform for the nationalisation of the railways after the Great war.
Essentially, the socialist case for nationalisation was a case for a rationalisation into national organisation. But socialism was either revolutionary and dictatorial or evolutionary and social democratic. (It will be convenient to discuss this further in the section on Wells' contribution to occupational representation or economic democracy.)
Even social democrats, like the Fabians, were officials of the unelected sort, bureaucrats in their mentality. The Faults of the Fabians was a report Wells made of his colleagues. He found out how "averse" they were to conducting a popular campaign. They prefered back-stairs methods. This remains true, also, of the elected officials, the politicians to this day. They are still not elected democraticly enough to make them publicly accountable.
Well before the Great War, Wells took-up the cause of proportional representation. While it remained on the political agenda, in the ensuing decade, Wells' writings include a remarkable campaign for the unadulterated version of PR.
Wells campaigned for PR in The Westminster Gazette, John Stuart Mill's old paper. Mill stood for parliament, as an Independent Liberal, to promote votes for women and PR. Wells failed both in 1922 and 1923, as a Labour candidate, to get into parliament in the London University two-member constituency with a transferable vote. There was an Independent Labour Party in those days. And a very Independent Labour MP, Wells would have been, like Mill, I dont doubt, introducing a Bill for Proportional Representation.
There was a 2005 program on BBC 4 entitled H G Wells and me. The presenters had got wind of the fact that Steven Spielberg was bringing out a film called War of the Worlds, since at a cinema near you. The tv film was mainly about Wells' early SF novels.
Two retired Labour party men appeared, one in a clip made in 1966. There-in a Left-winger's sole purpose was to characterise Wells' writings as recruiting for the Labour Party against the Tories.
This left-winger, Michael Foot, wrote a book, The History Of Mr Wells, that made no mention of Wells' support and many writings and mentions for PR by STV, tho the biography was largely political.
It must be admitted, I have never read more than one Wells biography that does mention PR -- only David C Smith's H G Wells: Desperately Mortal. He says Wells pressed "more and more" for proportional representation. And that is hardly enlightening. Then again, Wells' biographers usually were not political and were mostly writing when electoral reform was way below the political horizon. This page remedies that omission, with reference to its awful frequency in Wells' writings.
( A reviewer of Smith's biography said a better title would have been "Triumphantly Vital." )
The other Labour man on the BBC 4 program, a right-winger, once caused Jonathan Dimbleby to sink his head at the peremptory response to the question of electoral reform. I remember that leading Labour politician's rough put-down of a mild-mannered Labour party candidate, who said he favored the transferable vote, a rare enough admission. The Labour boss forgot the party contest to anathemise his junior colleague.
Tho they knew perfectly well otherwise, the old war horses pretended on tv that Wells was a good party man like themselves.
The Labour right-winger was Roy Hattersley, who later came out in favor of PR when the Brown government was in terminal crisis. Afterwards, things were looking-up for the party under Ed Miliband's leadership. Whether Hattersley has found principles, or remains a party weather-vane, is a secret between Hattersley and his political conscience, if he has one.
Hattersley said his party approved of Wells as a candidate because he was a scientist. If that is so, there are precious few scientists who approve of party politics. Scientists are singularly lacking among MPs.
The point to be made in general is that partisan politics is prejudicial against the honest spirit of free enquiry into a wider knowledge that would serve the general interest. Science would not work either, if it were run as political party dogma and the whipping dictatorship quell parliament's function of free debate.
When PR became a lost cause, Wells never quite gave up his allegiance, on occasion flaring up, like a bonfire the politicians hadnt quite succeeded in stamping out.
To top
Wells tells us that the onset of the first world war turned him away from imaginative literature to thinking about the problem of world peace. This is never far away from most of his subsequent non-fiction. ( To pick out the most obvious references would be an under-statement of its centrality to his concerns. ) Wells was confirmed in his opinion that the mechanical scale of warfare was becoming intolerable. Nothing short of world federation would be needed to secure peace. He emphasised that many others shared this view and encouraged the public to seek out their views, if his opinions were not congenial to them.
At the same time, these were the years of struggle in the British parliament for democratic reform by proportional representation. And Wells sometimes devoted chapters to both subjects in the same book, such as In The Fourth Year ( 1918 ). The connection was more than accidental to him and culminated in his 1940 war-aim initiative for a new Declaration of Human Rights.
I have discussed elsewhere the dependence of peace on democracy ( on my page about the ethics of scientific method ). The out-standing work of Wells' third phase, The Outline Of History ( 1920 ) breaks away from education in national conceit and the partisan spirit of my country right or wrong. History is treated as the human story from its origins in natural history to the emergence of mankind as one. Thus, history is the history of democracy, whose achievement is an achievement of the conditions for world peace.
Wells' famous phrase, "The war that will end war" has often been used against him, as a false prophet. This over-looks the war aim: to end war. It remained such a common cause, after the first world war, that a BBC radio director objected to Wells adding to the current "peace propaganda". So, Wells' talk began by mentioning what he hadnt been allowed to talk about.
During the Great War, Wells was discussing in print what were the conditions for peace. How was war to be stopped?
When I started to read Wells' Great War discussions on how to end war, it felt as if I was entering the modern world from a gateway opened ninety years ago. The International Court at the Hague, still with us, was then something of a dead letter, while it gave power out of all proportion to sovereign states, no matter how small and insignificant compared to the great powers, who naturally took no notice.
He also pointed out that a world judiciary needed to be permanent to anticipate disputes, not merely react to them after they have broken out. In recent years, one such international law court was made permanent. Law globalisation remains a slow process.
From the First War-time, and in his 1932 essay collection, After Democracy, Wells argued that the peaceful settlement of international disputes didnt need the participation of every little nation to start with. He said half a dozen of the world's big powers could get a world federation going. The rest would have to accomodate themselves to the changed situation. He went further and said four of the biggest powers would be enough for no other nations to dare military defiance. He also pointed out that highly civilised nations like the Scandinavian countries, tho not powerful, would give positive support to such a world peace initiative. In despair almost, he even suggested The United States and the British Empire might begin the world federation thing - tho he knew his own country better. This notion of the big powers coming together to arbitrate a global peace is the germ of the idea of the United Nations Security Council.
Before the Second War, Wells reckoned that the peace of Europe depended on a future alliance of Germany and France. After the war, Churchill made this the message of his visit to the ruined continent. Churchill's immense prestige must have influenced them. In any event, the French and Germans have taken their alliance to heart ever since.
Was Wells an originating impulse for this historic change? Quite likely. In a 1930 interview, Churchill admitted he had read and re-read everything that Wells ever wrote. He could pass an exam on him -- which is saying something of the boy who left his school exam entry page blank. Churchill spoke of the tips on war and peace to be found from Wells. They were friends to some extent and Wells dedicated a book to Churchill.
It may be no coincidence that Churchill, knowing Wells' out-spoken views, was the last main British political leader, to date, to advocate proportional representation for the House of Commons. Even if this was only a party-political manoevre, it is more than any of his successors have dared by way of leadership.
We know that Churchill got his idea of the tank from Wells' 1903 short story, The Land Ironclads. I had to read this story to the end before I could feel quite sure it was not a later documentary of a real tank offensive against the trench warfare.
Unfortunately, the British army, just as backward as Wells said they were, werent interested. Churchill had to test the invention thru his office of the Admiralty. Then his plans were followed only in the most niggardly fashion and the great strategic advantage was thrown away. Nazi Germany's blitzkrieg learned that military lesson - the only kind of lesson they did learn.
Churchill's staying on in politics, after the Second World War, cannot be dismissed as just addiction to the drug of power that leaders display. He had won the war but wanted to win the peace. Thru the world influence of his writings, Wells had visited American and Soviet leaders. Churchill did so as a leader in his own right. Instead of war summits, he wanted to hold peace summits. Old age and illness defeated his aim, not to mention the intractability of other leaders and his own colleagues. His despondency in retirement reflects the passion of that desire for world peace, a passion to be found in the third phase of his favorite writer.
If Churchill did take Wells' advice on a Franco-German alliance for European peace, he was going against a time-honored tenet of English or British foreign policy. As Churchill's own A History of the English-speaking Peoples says, this country would ally with the second power in Europe to restrain the great power of the day, whether it be Spain, France or Germany, all absolute monarchies. The Wellsian policy was like getting the first and second power in Europe to ally to keep the peace.
European nations might say we are all democracies now but this is more sentiment than reality, which is showing thin to the continent's people, who have no reason to like the undemocratic European constitution. But the German leader, Schroeder wanted other governments to carry on regardless of the French and Dutch referendum No votes. The French establishment and media insisted that No was not an option for the future of Europe. French president Chirac responded to the No result by saying he would take "note" of it - hardly a ringing endorsement of a democratic decision.
The moral is that the democratic voting system and other essential conditions of freedom cannot be skimped from the European or any other constitution, if human rights are not to be endangered.
One of the disillusions of my life-time was to see the United Nations with its Security Council in place but paralysed by internal dissension from ever intervening to put an end to out-breaks of violence all over the world. The end of the Cold War seemed to galvanise the security council's peace-keeping role. After a lifetime on ice, it was remarkable to see this body come to life. However, in more recent years, the lack of consensus between the big powers has come to the fore again.
One may suspect the reasons, such as national ambitions at any cost to the environment and the future of the viability of the planet's ecology; trading advantages with corrupt and cruel regimes over impoverished peoples. Bad human rights records of some of the security council members themselves is bound to make them condone the same else-where. Some so-called democracies are fatally disposed to condemn others without putting their own democratic house in order.
This is so fatal because a democratic world is best achieved by example, rather than by imposing standards upon others. People have to see the merits of a democratic way of life and want to take it up themselves. Countries like my own, despite its supposedly "moral foreign policy," are simply not democratic enough to show all that obvious a benefit, worth learning from. In some ways, Britain is seen as suffering from a moral sickness to be avoided.
Wells envisioned a politics and economics practised with the disinterest brought to natural science. It is one of the great under-lying themes of his life's work that often surfaces.
And it is natural that I should exalt science. In the scientific world I find just that disinterested devotion to great ends that I hope will spread at last through the entire range of human activity. I find just that co-operation of men of every race and colour to increase Man's knowledge. We can all be citizens of the free state of science. But our political, our economic, our social lives have still to become illuminated and directed by the scientific spirit - are still sick and feeble with congenital traditionalism.
It is true that George Orwell decried Wells' belief in progress by science as naive. But in this he was speaking from an especially English insistence on educational split personalities between "the arts" and "sciences". It isnt surprising that a literary critic, Patrick Parrinder endorsed Orwell's attack.

Orwell says in the essay, "Wells, Hitler and the World State", that we see "science in the service of barbarism". This is no more a case against science than the intellectuals, that Orwell claimed were anti-intellectual, are a case against the intellect.
( I read just such provocative journalism, the other day, that could be construed as an intellectual doing the dirty on intellect, as Orwell put it. She maintained, with allusions to human ape ancestry, that leaders were chosen by whether they were worth going to bed with or not. Whether she actually knows anything of the ethology of the matter may be doubted. ) The point Orwell seems to be making is that science has somehow failed to be the answer, that Wells hoped it would be, to human problems.

The notion that democracy can be used to vote out democracy, strictly speaking, is also wrong, when democracy is the effectively democratic proportional representation of minorities as well as majorities. Prohibitors and censors believe people must not be given freedom because they will abuse it. Science is essentially free enquiry and that free enquiry might be used to evil ends.

That much is true. Aldous Huxley remarked on the scientific organisation of the Nazi concentration camps. But underlying those crimes were beliefs justified by racial pseudo-science. Airey Neave confided to Michael Bentine that the prosecution at the Nurenburg trials dare not use all the evidence against the Nazi war criminals or they might have escaped the death penalty as certifiable lunatics. Social hatred may be traced back to historical and personal causes. On these grounds, a study of Hitler was published.

It is also true that acts of terror are committed by apparently normal people, subject to small-group dynamics, as in Miligram's obedience experiment, from social psychology. ( I remember being suborned for the conformity experiment long ago. ) Both trials were featured in the informative Horizon program on suicide bombers ( BBC 2, 27 november 2005 ).

When all that has been said, knowledge itself, however good, is admittedly not enough to determine for sure the choices we make. We are, after all, free to choose, whatever we will. But that does not mean science has no more say in the matter. Science is method as well as theory. And scientific method is not merely a technique for amoral ends. It is in itself an ethic or morality - "the free state of science." Freedom of thought is required to learn the truth, whoever discovers it. All researchers are brothers and sisters in a shared endeavor.

Politics still fails, because the truth does not follow party lines but must be followed on its own terms, not our own supposed convenience or interest. This is an essential part of the answer to man's growing problems, that H G Wells foresaw. Politicians, and their literary media, are as ignorant as ever of the scientific liberation of mankind, that Wells promoted. They only seem to see science, not to mention themselves, in the service of the corporation.


To top

The elitist image of Wells was substantially fostered by himself. But it is an inadequate representation of the man. I must have read a dozen or more biographies or literary studies of Wells. And on the whole they gave a picture of Wells the elitist, and by implication a man of aristocratic presuppositions. Was he not brought up or rather brought down-stairs to an aristocratic mansion?

However, Wells objected to his views being summed up by his fiction onwards from the artillery-man in The War Of The Worlds. The World Of William Clissold ( 1926 ) is a novel of ideas but not necessarily his ideas, as the prefatory note explains. Wells says if he had wanted to write a mental autobiography, instead, he would have done so.

The frank exposition of Wells' own ideas is to be found in his many works of non-fiction. Wells' elitism is clearly expressed in the lecture he gave to the Sorbonne in Paris, 1927. Called "Democracy Under Revision", it is re-printed in The Way The World Is Going (1928). In the preface, he ends by saying that "the revision of democracy is not its repudiation." His ten year campaign for (genuine) proportional representation had been to no avail. The Second Speakers Conference on Electoral Reform, of 1929 - 30, was dominated by the meanest partisanship without a trace of national spirit (as refered on my page: Foul! Referee electoral system abuse).

"Democracy Under Revision" finds the resourceful author looking for cause and remedy of the stalling of democracy and the wide-spread dissatisfaction and indifference towards politicians. He recognised that something more was needed than a news-paper campaign to involve public opinion. And he saw the religious involvement of the party workers for Communism and Fascism. He carefully explained that he didnt support these movements. (He was to comment, that, of course, the Press still misreported him as if he did.) Wells' hope was that people could find the devotion of the Communists and the Fascists put to less narrow creeds. He pointed out that the idea of people who are called to be public-spirited was behind his idea of the Samurai in A Modern Utopia. He concludes:
What is there to prevent a great politico-religious drive for social and world unity taking hold everywhere of the active and adventurous minority of mankind -- that is to say, of all mankind that matters -- even quite soon?...

That is what I mean when I say that the phase of Democracy as release has come to its end, and that we are already in the beginning of the phase of Democratic Synthesis, a great religious-spirited phase. If you choose to link it to Christianity or Islam or Buddhism or any existing democratic religion; or to Communism, that religious substitute; or call it in itself the Religion of Progress, nothing that I am saying here to-night will stand in your way. And if this diagnosis is correct, then necessarily the changing spirit of Democracy, the change from fragmentation and irrelevance to synthesis and reference to directive general ideas on a universal scale, will become apparent in all forms of human expression.
Three remarks may be made about the above quotation. Firstly, the Sankey Declaration as the fore-runner of the UN Charter provided that "reference to directive general ideas on a universal scale", which most of the world professes to respect. So, the world's hopes for world peace and freedom owe something to Wells' efforts.
Secondly, Wells asked whether world-wide problems were being discussed more "in all forms of human expression." My feeling, at least of the modern English novel, is that they are not. The monolithic publishing of big business seems to turn out little writers, recommended for committee prizes.
Thirdly, Wells' phrase "of all mankind that matters" becomes self-referential. People come to regard public spirit as confering an elite status. Party privilege and moral degeneration follow.
Wells admits this in The Open Conspiracy, also published 1928. This phrase's contradiction in terms hints at its meaning as a sort of party that is not a party, an anti-party.
With the dreadful examples of Christianity and Communism before us, we must insist that the idea of the Open Conspiracy ever becoming a single organization must be dismissed from the mind. It is a movement, yes, a system of purposes, but its end is a free and living, if unified, world.
Until I appreciated Wells' motive, the open conspiracy sounded to me like revolutionary hubris. Wells himself seemed to think the title melo-dramatic and hi' falutin' when he re-titled the book: "What Are We To Do With Our Lives?" He also admitted his Samurai had been "rather absurdly" named.
In 1932, After Democracy was another of Wells' periodic collections of essays into book form. Actually, it contains no essay of that title. Tho, he does happen to use that phrase in his earlier essay "Democracy Under Revision", which portends a realist's changing way of thinking. Only the most fleeting mention is given to changing the voting system, of which there was no further prospect in his lifetime or, indeed, for long after his death. The world has scarcely got truly democratic voting method yet. But he did not lessen his attempts, by other means, to change politics and avert the likelihood of war.
After Democracy urged people to form study groups for mutual self-education. He already admitted The Open Conspiracy was ineffective. Later, he substituted less political, more educational and scientific notions such as the world brain or world mind. An academic criticised Wells' World Brain for possible "social repression" rather than liberation. The previous quotation anticipates the critic's apprehension. When the academics liberate us, such warnings will seem more helpful.
Wells educated millions with his encyclopedias and attempted to improve the organisation and availability of knowledge. He admitted, tho, that, with regard to his famous aphorism, civilisation is a race between education and catastrophe, there had not even been a race. Catastrophe was winning hands down.
To top
British political parties' idea of electoral reform remains the combination of rules that will give them most seats for votes. (Scotland and Wales may move more to democratic standards.) In 2005, the Tory party idea of electoral reform is tweaking First Past The Post to swing the balance of power back from Labour to Tory.
Both parties have justifications for their favored rules but the rules they favor just happen to swing the out-come of the voting system in their own favor. So, Labour kept postal voting despite a judge's remark, after a ballot rigging case, that it was wide open to abuse. The Tories give this reason for ending postal voting. Labour justifies postal voting to off-set falling turn-out. It also off-sets the fact that Labour supporters are less likely to vote.
Labour and Tory have been pleased for the monopolistic single member system to be their monopoly. This means that the partisan Press have been muted in their criticism of the failings of First past the post. It may be working to Labour's advantage at present but the Tory Press dont want to turn their readers against it altogether.
A crucial test of a democrat is support for the democratic electoral system. John Stuart Mill certainly set that standard in democratic commitment by selflessly supporting Hare's system of "Proportional Representation" that is also "Personal Representation". Mill, as a philosopher of international repute, fairly set PR on its way. And the personal factor in PR persisted in English-speaking countries.
Wells never lost sight of this personal condition of elections. Mill may have been taken more seriously as a thinker. But Wells was an endlessly interesting observer of human affairs. Writing on electoral reform over a longer period, Wells has left more substantial discussions of electoral reform, as well as innumerable tokens of support thru-out his writings. Some readers may know of other references to PR I have not discovered.


References by H G Wells to electoral reform.
1912, May, "The Labour Unrest" ( reprinted in An Englishman Looks At The World ):
This diminishing actuality of our political life is a matter of almost universal comment nowadays. But it is extraordinary how much of that comment is made in a tone of hopeless dissatisfaction, how rarely it is associated with any will to change a state of affairs that so largely stultifies our national purpose. And yet the causes of our present political ineptitude are fairly manifest, and a radical and effective reconstruction is well within the wit of man.

All causes and all effects in our complex modern State are complex, but in this particular matter there can be little doubt that the key to the difficulty lies in the crudity and simplicity of our method of election, a method which reduces our apparent free choice of rulers to a ridiculous selection between undesirable alternatives, and hands our whole public life over to the specialised manipulator... Election of representatives in one-member local constituencies by a single vote gives a citizen practically no choice beyond the candidates appointed by the two great party organisations in the State. It is an electoral system that forbids absolutely any vote splitting or any indication of shades of opinion. The presence of more than two candidates introduces an altogether unmanageable complication, and the voter is at once reduced to voting not to secure the return of the perhaps less hopeful candidate he likes, but to ensure the rejection of the candidate he most dislikes. So the nimble wire-puller slips in. In Great Britain we do not have Elections any more; we have Rejections...

Now such a system of representation is surely a system to be destroyed at any cost, because it stifles our national discussion and thwarts our national will... It is not rational that a great people should be baffled by the mere mechanical degeneration of an electoral method too crudely conceived.

I will not dwell on the particulars of the proportional representation system here... Suffice it...a voter may vote with confidence for the particular man he prefers, with no fear whatever that his vote will be wasted in the event of that man's chance being hopeless. There is a method by which the order of the voter's subsequent preference is effectively indicated. That is all, but see how completely it modifies the nature of an election. Instead of a hampered choice between two, you have a free choice between many. Such a change means a complete alteration in the quality of public life.
1912: The narrative character, in the novel Marriage, neutrally lists a number of possible causes to support, including proportional representation.
1913: Letter in The New Witness, 13 September.
PR for the "well-known politically-trusted man who is neither Liberal nor Conservative [nor] the undistinguished party nominee."
1914: "The Disease of Parliaments."
The party-supported Cabinet, which is now the real government of the so-called democratic countries, would cease to be so, and government would revert more and more to the legislative assembly. And... it would also necessarily take into itself all those large and growing exponents of extra-parliamentary discontent that now darken the social future... all...identical in this, that they declare Parliament a fraud, that justice lies outside it and hopelessly outside it, and that to seek redress through Parliament is a waste of time and energy. Sane Voting would deprive all these destructive movements of the excuse and necessity for violence.

There is, I know, a disposition in some quarters to minimise the importance of Proportional Representation, as though it were a mere readjustment of voting methods. It is nothing of the sort; it is a prospective revolution. It will revolutionise government far more than a mere change from kingdom to republic or vice versa could possibly do...
This long essay, just quoted from An Englishman Looks At The World, is Wells' most considered case for proportional representation.
This may be down-loaded from:
http://www.gutenberg.org/etext/11502

It includes a detailed explanation of the single transferable vote ( STV ), the later name for Hare's system.

Note: The Hare quota has not yet been abandoned for the Droop quota in the proportional count. There is not much difference between the two quotas when very large constituencies are used.

(This reviewer invented a simple harmonic mean quota of the Hare and Droop quotas, which I hold to be more representative than either. Explained on this sites page: Harmonic Mean Quota for very highly Proportional Representation in Single Transferable Vote (STV) Elections.)

Reformers were no longer advocating Hare's system in the whole country as one constituency of over six hundred seats. Instead they were suggesting regional constituencies, which would have still averaged about twelve to thirty seats per region. That is still very proportional. A twenty-seat constituency could give a PR of up to 19/20, in theory, depending on how fully the voters stated preferences for enough of the candidates.
Some Edwardian reformers were still highly ambitious for representative democracy.

My main claim to fame in the revived British electoral reform movement in the mid 1970s was to send them copies of Wells' essay. One broad-sheet quoted Wells' support for proportional representation, without mentioning the single transferable vote, keeping to the most rhetorical and least informative extracts.
Wells himself seems to have had similar experience. In most of his future electoral reform writings, he expresses his support in the formula: proportional representation by the single transferable vote in large constituencies. That is to say he wont be misrepresented as supporting party list systems of so-called PR, or single member systems ( or double or very few member systems ).

1914: The World Set Free.

This is one of Wells' later SF novels. Dipping again even in the less successful works, any passage is liable to interest. It is one of Wells' uneasy compromises between adventure story and intelligent forecast of the consequences of political failure to keep up with technological advance. This is the work that prophesied "atomic bombs" and also "the sun snarers" that is energy producers from nuclear fusion as in the sun.
Wells, writing the novel in 1913, before the great war, ends with a post-war utopia. A 1921 preface makes clear the work is in the realm of warnings and guesses with some wishful thinking, perhaps, but not a manifesto. Chapter 4, section 9, "The new phase" says:
The method of proportional representation with one transferable vote was adopted, and the voter might also write upon his voting paper in a specially marked space the name of any of his representatives that he wished to recall.
The novel's provision for a recall doesnt sound particularly felicitous but it is of historical interest that Wells anticipated by ninety years the California recall of a state governor.
1916: The Elements of Reconstruction.
This little book was based on some long articles for The Times. As will be mentioned later, it is of interest for advocating an economic franchise, as well as electoral reform. 1916 was the year of the first Speaker's Conference on Electoral Reform, which Wells may have been trying to influence to recommend STV, which they in fact did. The book has a preface by the Tory Lord Milner, who sought to assure Wells as much as his readers that PR was coming.
A quotation from this book is given on my page: Scientific method of elections. How NOT to do it. And the fates of the Speakers Coferences are related on my page: Foul! Referee electoral system abuse.
1916: What Is Coming?
In the chapter, "Lawyer and Press", Wells claimed that the Press were the real opposition to the largely lawyer-controlled politics of parliament. A foot-note to that chapter says:
In "An Englishman Looks At The World," ... the reader will find a full discussion of the probable benefit of proportional representation in eliminating the party hack from political life. Proportional representation would probably break up party organisations altogether, and it would considerably enhance the importance and responsibility of the Press. It would do much to accelerate the development of the state of affairs here foreshadowed, in which the role of government and opposition under the party system will be played by elected representatives and Press respectively.
While seeming to contradict Wells, I believe you'll always get partisanship. A fellow has to start off with a passionate point of view or not start at all. But I do think that transferable voting is a means to transcend and indeed grow out of partisan views, if appropriate. To some extent, I do think the Press would have a more important and responsible role, simply because an end, to the whips' censorship, could break the undemocratic bounds of enquiry that Press, as well as politicians, keep to.
1916 (July 26) Letter to Daily News (editor, Cecil Chesterton).
...Mr Chesterton knows perfectly well that I have been a consistent and strenuous critic of political institutions, ready even to call in Mr Chesterton himself to learn what he had to say about them, and that I have written abundantly upon proportional representation, which I believe will cure most of the admitted evils of the party system and political professionalism, upon the influence of electoral areas, upon political quality, upon the electoral influence of lawyers, and so on. I concede the present inefficiency of the Democratic and do my utmost to make it an efficient method.
1917: Letter to The Times, appeared 30 March; reprinted in his 1924 pamphlet.
Sir - There seems to be a very general failure to grasp the importance of what is called -- so unhappily -- Proportional Representation in the recommendations of the Speaker's Conference.  It is the only rational, honest and efficient electoral method.  It is, however, in danger of being thrust on one side as a mere fad of the intellectuals.  It is regarded by many ill-informed people as something difficult, "high-browed", troublesome, and of no practical value, much as science and mathematics were so regarded by the "practical" rule-of-thumb industrialists of the past.  There are all too many mean interests in machine politics threatened by this reform, which are eager to seize upon this ignorant mistrust and use it to delay or burke the political cleaning-up that Proportional Representation would involve…

With Proportional Representation with a single transferable vote (this specification is necessary because there are also the inferior imitations of various election-riggers figuring as proportional representation)  it is impossible to prevent the fictive candidature of independent men of the party beside the official candidate…

 
1917: In a letter that appeared in Daily News, on 27 April, Wells corrects a claim he has become a recent convert to PR:
I have worked steadily for "P.R." for the last ten years and more. No intelligent man who looks into the question can fail to see the enormous advantage of this method of election.
1917: Letter to an unknown correspondent, who sent it to the Manchester Guardian, where it was reprinted on the 22nd of June, as Mr H. G. Wells' Labour programme:
1.  The ultimate abolition of all hereditary privilege and the establishment of Democratic Republicanism throughout the Empire.

2.  The conversion of the Empire into a League of Free Nations.

The concentration of foreign policy upon the establishment of a world alliance of all free nations to prevent wars and armament for wars, to control world shipping and transit, to prevent vexatious tariffs and other trading hostilities, and to protect uncivilised and politically confused countries from conquest and exploitation.

4.  The nationalisation of land and natural resources, of all transit services, of the staple food trade and of the drink trade.

5.  The nationalisation of banking.

6.  Universal suffrage for all over 21, with, of course, proportional representation upon the lines laid down by the P.R. society.

7.  Penalisation of deliberate falsehood in advertisement and the press.  (This is absolutely essential to the health of democracy.)

8.  Liberation of religion from state control (and subvention.)

9. Free education up to 16 for all and further education for everyone with the necessary capacity.

10.  Minimum wage.

11.  Motherhood and old-age pensions on a computable scale.
1918: letter to The Times, published 30th of November, as: Who Killed PR?
…As your columns have testified again and again, the only sane, logical and practicable method of democracy is the method of election known as P.R…

 This coming election is only a particularly bad instance of a long-standing evil.  Now it is Mr Lloyd George alone dictating to the ordinary elector; hitherto it has been a dictation of alternatives.  Parliament has always been a joke at the expense of the democracy, and now the joke has become extravagant…
1918: In The Fourth Year. Anticipations of a World Peace.
The bulk of this short book is about "The League of Free Nations", as Wells pointedly called what was to become the inter-war League of Nations. He ends with three chapters on democracy, on this pretext:
Not only is justice to prevail between race and race and nation and nation, but also between man and man; there is to be a universal respect for human life throughout the earth; the world, in the words of President Wilson, is to be made "safe for democracy."
Wells goes on to ask what is democracy and "whether we have got it now anywhere in the world in its fulness and completion."
All forty pages or so of Wells on democracy, as part of In The Fourth Year, can be down-loaded from Project Gutenberg. http://www.gutemberg.org/etext/10291
I content myself with quoting the following opening of a chapter, on the British parliament. Its powers of resistance now as then should not be under-estimated:
British political life resists cleansing with all the vigour of a dirty little boy. It is nothing to your politician that the economic and social organization of all the world is strained almost to the pitch of collapse, and that it is vitally important to mankind that everywhere the whole will and intelligence of the race should be enlisted in the great tasks of making a permanent peace and reconstructing the shattered framework of society. These are remote, unreal considerations to the politician. What is the world to him? He has scarcely heard of it. He has been far too busy as a politician... His one supreme purpose is to keep affairs in the hands of his own specialized set, to keep the old obscure party game going, to rig his little tricks behind a vast silly camouflage of sham issues, to keep out able men and disinterested men, the public mind, and the general intelligence, from any effective interference with his disasterous manipulations of the common weal.

I do not see how any intelligent and informed man can have followed the recent debates in the House of Commons upon Proportional Representation without some gusts of angry contempt. They were the most pitiful and alarming demonstration of the intellectual and moral quality of British public life at the present time.

From the wire-pullers of the Fabian Society and from the party organizers of both Liberal and Tory party alike, and from the knowing cards, the pothouse shepherds, and jobbing lawyers who "work" the constituencies, comes the chief opposition to this straightening out of our electoral system so urgently necessary and so long overdue. They have fought it with a zeal and efficiency that is rarely displayed in the nation's interest.
1918: Joan and Peter.
H G Wells' shortest and most memorable reference on electoral reform, when the eponymous Peter says: "PR is the best method".
In 1955, J F S Ross made clear that proportional representation is a principle not a method. But in 1918, when Parliament was voting on the Speaker's Conference on electoral reform, there was no question of any other PR than the original invention by Thomas Hare ( independently of similar slightly earlier proposals by Carl Andrae ). So, there was then less need to make the distinction between the principle and its proper application.

Wells has often been criticised as spoiling his later novels with debate. But "Joan and Peter" and several later novels show that Wells remained capable of artistic restraint from the discussion novel like The World Set Free.
When PR by STV was re-introduced to Ulster in the 1970s, the system was explained in a leaflet by "PR Pete".
1920: The Outline Of History.
Wells does not fail to mention that the new American democracy fell into the natural trap of the simple majority method without realising the need for a transferable vote.
1921: The Salvaging of Civilization.
I do not think it is necessary to assume that the council of the World State will be an assembly of party politicians.  I believe it will be possible to have it a real gathering of representatives, a fair sample of the thought and will of mankind at large, and to avoid a party development by a more scientific method of voting than the barbaric devices used for electing representatives to Congress or the British Parliament, devices that play directly into the hands of the party organiser who trades upon the defects of political method.

Would this council be directly elected?  That, I think, may be found to be essential.  And upon a very broad franchise.  Because, firstly, it is before all things important that every adult in the world should feel a direct and personal contact between himself and the World State, and that he is an assenting and participating citizen of the world; and secondly, because if your council is appointed by any intermediate body, all sorts of local and national considerations, essential in the business of the subordinate body, will get in the way of a simple and direct regard for the world commonweal.
1923: November address to the London University constituency:
...Let me add that I am a firm believer in Proportional Representation, which I think is a far more urgent and important reform than is generally recognized.
1924: A Year of Prophesying.
Based on a series of articles for The Westminster Gazette written in 1923. They are indeed prophetic of a range of the world's problems come home to roost, and clearly still ahead of present counsels. My quote, in "Against the Jenkins Report," sounds like an unusually out-spoken contemporary. In 1923, Britain had a three party balance of power, in which the Labour party needed the support of Liberals to take power. Amounting to a campaign, Wells' articles kept coming back to the case for PR by STV.
1924: "The PR Parliament" was a pamphlet published for The Proportional Representation Society.
1924: The Dream.
This was the Parliament House, and in its chambers, a formal King, an ignoble nobility and a fraudulently elected gathering of lawyers, financiers, and adventurers took upon themselves, amidst the general mental obscurity of those days, a semblance of wisdom and empire.
1928: The Way The World Is Going.
Two essays approve of PR by STV but say such reforms dont go to "the root of the trouble with Modern Democracy, which is the indifference, ignorance and incapacity of the common man towards public affairs."
And from the essay, "The absurdity of British politics":
Both the Liberals and the Labour Party tricksters have in turn cheated the country out of proportional representation,... It is too late to go into that issue now.
1932: The Work, Wealth & Happiness of Mankind.
Chapter 12, section 5 on assent - which, Wells says, is at present "plainly, humbugged assent". Brief explanation and discussion of proportional representation and its 300 list corruptions "to keep power in the hands of party politicians". A continual sense is given of how hopeless politicians are, as well as how hopeless it is to remove them.
1934: Experiment In Autobiography.
Wells quotes from his 1912 article on "The Labour Unrest" and adds in parentheses:
(But all this was complicated with an advocacy of "proportional representation" and one or two other minor reforms which I now find myself less willing to revive. Not so much because I have lost faith in them as because I realize that they are of such secondary importance that any insistence on them distorts the proportion of the general proposition. If ever they are mentioned people say: "So that's your panacea!" and everything else is ignored.)
Wells has given PR a rest and it is (as far as I know) several years before he rebels against his own "bashfulness" on the subject, that people have induced in him. If anything, the below quote goes to the other extreme in setting too much store by its world-changing effect.
1942: The Outlook for Homo Sapiens.
Let us begin then with the problem of sanity in face of the political methods of our time. What are we to do as voting citizens? There I think the history of the so-called democracies in the past half-century is fairly conclusive. Our present electoral methods, which give no choice but a bilateral choice to the citizen and so force a two-party system upon him, are a mere caricature of representative government. They have produced upon both sides of the Atlantic, big, stupid and corrupt party machines. That was bound to happen, and yet to this day there is a sort of shyness in the minds of young men interested in politics when it comes to discussing Proportional Representation. They think it is a "bit faddy". At best it is a side issue. Party politicians strive to maintain that bashfulness, because they know quite clearly that what is called Proportional Representation with the single transferable vote in large constituencies, returning a dozen members or more, is extinction for the mere party hack and destruction for party organisations.
The above extract is still imbued with a sense of party abuses, that it again fails to qualify what Wells on reflection must know perfectly well, namely, that party is as essential to politics as classification of ideas is essential to the simplifying power of thought in general. Nevertheless, we must hope that PR proper would do much to mitigate partisan exclusiveness.
1944: '42 - '44. A Contemporary Memoir.
Both the great English-speaking democracies are still politician-ridden systems, employing a vast burthen of non-productive people; every newspaper is coloured by political bias; Big Business keeps close contact with the politician...
The above quote sums-up how our democracy has been stalled for a further sixty years. The book also gives an insight into the controversial section eleven of the Sankey Declaration on Human Rights. The version in this book is somewhat feebler than the standard version (quoted on this web site). But it is to the standard version that Wells refers when he says:
The Sankey Declaration of Rights betrayed a certain uneasiness in what was evidently a very amended and re-amended Article Eleven, but it could still be read as if it enforced this strange idea that we must ultimately submit ourselves to a body of persons elected by the votes of the entire adult community.

It hedged a little by stipulating that the consent of the governed shall be either "active or tacit", and by indicating "electoral methods which give effective expression to individual choice". That was a concession to "Proportional Representation".
Wells admitted the clause gave
no absolute protection from the nightmare of a World General Election, in which the professional electioneers will guide the confused multitudes into the polling booths, ... the politicians... will then legislate for and between the socialized banks, the great corporations, the syndicated shops, the vaguely resentful common man and everything else that matters in life.
Old Wells was not afraid to put representative democracy in its place. Yet, in his great 1914 essay, he was surely right in believing it an essential civilising medium between rulers and ruled. We dont want to do what so many countries did in Wells' time and since. They threw the baby of representation out with the bath-water of politicians. But one cannot deny his forebodings have every precedent.
It is not clear whether he thought proportional representation might prevent undue manipulation of a world parliament. It is clear that Wells still supported PR, because he has explicitly linked it to the relevant phrase in article eleven. This is the Wells that said in 1916 that there is one right method and any number of wrong methods of voting. By PR, Wells always meant its unadulterated form. As above quotes show, he meant the transferable voting system, indeed the only system that does "give effective expression to individual choice".
Likewise, when we say "bread", we dont mean bread adulterated with chalk for flour. It is just that politicians commonly adulterate democracy, and bring discredit on the very idea, to keep themselves in office. A person who has never tasted anything but adulterated bread cannot be expected to have much good to say about bread. By the end of his life, Wells himself was plainly so tired of the bad taste in his mouth, given by pseudo-representative democracy, as to shun the prospect of such an unwholesome "loaf" for the world, at least without proportional representation proper.
To top
Wells was vehemently opposed, as he put it, in his essay The Great State ( 1912 ) to socialism by bureaucracy. But the paternalistic socialism of Bismarck served as the model that such as the Fabians and Lloyd-George introduced into Britain. The very title of the above essay is misleading (as I explained on a page - also misleadingly termed - The Second Chamber Of Science). And Wells' approving use of the term "Socialist" is itself misleading. It is something much nearer to the sense in which John Stuart Mill became a socialist. By the mid-twentieth century, socialism had become synonymous with state control. Even the so-called democratic socialism of the revisionists of Marxism had much the same end. The revisionists sought a degree of nationalisation thru parliamentary rather than revolutionary means.
And it must be admitted that Wells' socialism often enough sounds like that of the command economy. At other times, he is the best defender of individual freedom from the increasing national and global organisation, he nevertheless approves and advocates to prevent the strife and waste from military and commercial competition.
Wells was receptive to economic democracy, as below references show. But he lived in an era when the prevailing mind-set identified socialism with top-down government. He only partly freed himself from world-organising fury to consider how individual freedom was to be given haven from it. This is true even of his last years, during his best reconciliation of the conflict between community and individual, the 1940 Declaration of Rights.
For instance, Wells contradicts the view that government powers are best kept as local as possible. He has no sympathy with Chesterton's ideal of a free peasantry, as in France. I agree with Chesterton against Wells. Countries, like Britain, need a free peasantry. A country needs to be able to better feed itself in a starving over-populated world of deforestation and desertification. It is ironic that this should be championed by the son of an estate agent. Whereas, Wells, the son of a green-fingered gardener, has no time for peasants. A passage in The New Machiavelli may help to explain this. The narrative character describes with disgust and believable detail how he just couldnt make anything grow.
Wells' bias towards the big scale betrayed him in his judgments on the best agriculture. He believed better the future agribusiness practise of knocking down the hedge-rows to allow in the machines to farm bigger fields. Ecologists, such as Michael Allaby, have been eloquent in demonstrating that this not only encourages soil erosion and destroys niches for wild-life. But also machinery and chemicals have ultimate efficiency draw-backs and that there is no substitute, in the end, for personal farming care. This implies limited small-holdings, within a few people's capacity to tend properly, and without the vexed question of who is doing the most work on a collective farm.
Wells thought Russian collective farms superior to peasant small-holdings. But right to the end of the soviet era, the latter's tiny plots were productive out of all proportion in comparison to the state holdings. Robert Ardrey couldnt believe a similar admission, in the United States, from a big owner (again backed by the statistics) about the greater efficiency of the small free-holdings.
1916: The Elements of Reconstruction.
Before the Great War, a book gave some vogue to the idea of replacing the Commons' geographical constituencies with occupational constituencies. Wells takes this up. The preface by Lord Milner seeks to dissuade him from this. And Wells did not persist in it.
1920: The Outline of History.
Wells considers the historic case for the House of Lords to progress to the proportional representation of vocations. (An elected economic second chamber is the view held by the writer of this web page.) This passage is quoted on my page: The Second Chamber of Science.
1928: The Way The World is Going.
From "Doubts Of Democracy",
A number of us do imagine that democracy might be preserved, as a vastly different and more efficient form of government, if election by proportional representation with the single transferable vote in large constituencies returning many representatives could be substituted for the present bilateral system...However,.. there is not the slightest chance of its ever becoming, except perhaps in name and with essential mutilations, the electoral method of any modern state. It can be left out of this present discussion, therefore, and so also can projects for a special Economic Parliament of trade unionists and employers and such-like collateral developments, or for elections by suddenly and fortuitously appointed jurymen instead of by entire constituencies.
Wells did revive the last idea, in his last full-length book, '42 - '44. Instead of world elections he favored some sort of sample assemblies. He anticipated British Columbia's Citizen's Assembly on electoral systems, sixty years later. The interference, with its decision for STV, would have confirmed Wells' antipathy for politicians.

From "Democracy Under Revision", Wells says most forms of Socialism are
an attempt to take the general economic life out of whatever hands control it at present and hand it over to the direction either of representatives elected by the workers, or of politicians elected by the voters of the entire community. Socialism is the attempt to democratise economic life as political life has already been democratised. And the final practical objection to Socialism, partial or general - the objection that has usually carried the argument - has always been this: that politicians and elected people are not good enough for the job.
Nowadays, nine-tenths of the nation are no longer poorly educated manual workers. Society becomes increasingly specialised and it becomes essential for society to represent all its specialised functions for its co-ordinated working. The argument for economic democracy is more powerful than ever. But the greedy destruction of the globe, called capitalism, proceeds as if there were no alternative to the tyrannous legacy of socialism as state control of the economy. Wells had already warned of the state socialist concentration of power, in 1908, New Worlds For Old. And he decried its effect, many times.
1932: The Work, Wealth & Happiness of Mankind.
Wells cites two proposals to solve "the economic problem", involving a new "economic parliament", as Winston Churchill put it, or "national assembly" as Mrs Beatrice Webb termed it. Churchill didnt propose an elected body but a miscellany of economic interests. Wells commented it was "not particularly drastic" and concluded:
What is necessary is not that Trade Unionists and business men and members of the House of Lords shall have still another opportunity of stating their opinions, but that governments themselves shall consider their economic measures from a world point of view.
Wells also considers a nation, being at the mercy of an international system of finance, a failing of Mrs Webb's proposal. But he is otherwise more positive:
She would have the range of questions which are generally called social removed from Parliament altogether and handed over to an elected National Assembly together with the government departments concerning their administration. This would have great advantages. It would relieve the pressure on parliamentary time. It would mean there was a far greater chance of bills being voted upon by people with some interest in their contents...
1936: The Anatomy Of Frustration.
Wells describes the fictional author of this work:
He was...very progressive in his attitude towards the labour he employed. He not only interested himself in a very generously conceived profit-sharing scheme, but he encouraged the criticism of his operations and management by his workers. That was in the opening decade of the century. His business associates regarded him, not always too tolerantly, as an "innovating radical."
To top
The course of a human life is like the fate of a man swept along in a crowd. The greatest among them will more or less display the same unintelligent mass behavior as the rest. H G Wells was among those who dissociated themselves sufficiently to show a better way. It is the better way that we should be most interested in, rather than the fact that in some ways the most able of human beings may be more foolish than ourselves. "Elitist" has become too misleading a word for those who take a better way. Nowadays, "elitists" means just about the opposite to what Wells intended: entrenched conservatives.
As the alternative to a state at war with its own people, the middle-aged Wells saw that representative government was the only civilised way of rulers dealing with the ruled. It wasnt working but he realised that a better system of election had been worked out. Like Mill before him, he believed it could save democracy. For over a decade, his writings campaigned for PR/STV while it was a real possibility because of the three-way split in party support. In 2005, this is again the scenario in Britain.
The parties have kept control thru the simple majority system's restriction on voter choice. Wells still worked for a unified world by some other means. He tried to reconcile unsuccessfully the dog-in-manger Liberal and Labour parties, so their vote would not be split by the Tories, he thought too backward-looking to old imperialist antagonisms.
He wondered if people, with the zeal of the Fascist and Communist party supporters, could be found for less narrow causes. He tried a sort of anti-party "open conspiracy" but soon realised that wasnt working. Since Wells' time, weve learned that intensely dogmatic movements degenerate and finally collapse under the insufficiency of their leading ideas put to the prolonged test of reality. There is no substitute for the scientific attitude in solving natural or social problems.
Wells' proposal of a public-spirited movement was becoming less political-sounding (open conspiracy) and more educational (world mind) in emphasis. His ideal remained one of scientific disinterest applied to society as well as to nature. Wells' popular writings did much to promote scientific education. And Wells had a rare honesty in exposing injustice and in putting forward remedies. Time and again, Ive come across passages, which Ive not been able to include here, and thought "that's worth quoting."

C P Snow, on the two cultures, drew attention to the lack of scientific application to the affairs of government. Voting method is the kind of limited precise question that science can well answer. It is not a substitute for science's democratic spirit of free enquiry. But it is a crucial test of whether that spirit exists in politics and national life. Till the present time, that free spirit has been blocked by an exclusive few, using the monopolies of single member system and/or bosses' party lists. The parties offer not so much a choice as a dilemma of manifestos full of unwanted and irrelevant policies, that the public are powerless to escape by parliamentary means. The parties' control of parliament has made parliamentary democracy irrelevant to the people it was supposed to represent.

Also, the party whipping system censors free debate and decision in parliament - at whatever level of government it operates. The second chamber should proportionly represent the whole nation's interests but also remains dominated by career politicians, in particular from the legal profession, out of all the occupations that make up the social body. Corporate institutions crush the people for want of effective elections of economic, as well as, political representatives to stand up for individuals.
---
Notes.
For thirty five years, I didnt know that my copy of Bealby was abridged, because this was not mentioned. When, at last, I saw an older edition, I thought I must be imagining its greater length. Eventually, a check showed some eighty pages' worth cut from an already modest length of novel. Even the infamous Bowdler, of Shakespear, let you know he edited the poet, at least if a Wordsworth edition of his, I once saw, is anything to go by.
Unacknowledged cutting of an author should be illegal, even if authorised by his Literary Estate. Bealby, as Ive hinted, is something of a forgotten master-piece - only inferior in length to Wells' most famous works.
Bealby was a favorite work of Wellsian, Major Frank S Britton MBE (Military). In recent years, I was approached by some-one who wanted to know about this member of her family tree. I refered her to the Electoral Reform Society, where he was the secretary. He had been a Fabian, in the early days, and met its leaders, including Herbert George Wells. PR/STV is in the charter of the ERS, previously called the Proportional Representation Society. I asked Frank if he knew Wells supported STV. Not many people know that. But of course he did.
The above foto of H G Wells, as an old man playing croquet, was probably taken at Stanway, Gloucestershire. It was obviously a bright day and the pictures of Wells didnt come out too well. One or two others present included J M Barrie.
(A snap of Wells with Barrie is shown on the page: Scientific method of elections. How NOT to do it.)
The "Poetry & Novels of Dorothy Cowlin" web-site also has a Wells page, where I have put another snap. I was thrilled to be allowed to publish, for the first time, these pictorial insights into the recreation of Wells and friends and am grateful to the owners, who, of course, retain the copyright.
Richard Lung.
3 November 2005.
Foto put-up 15 November 2005.
More references put-up on 12 & 13 March 2011, 21 June 2013, mainly from: Correspondence of HG Wells, edited by David C Smith.